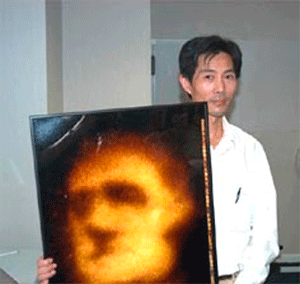 Xinhua net on May 31st news reports according to the American Chinese Press, lived abroad New York's Chinese people micro carvings painter-Jin Y. H. other day the city conducts in Manhattan newly does the release conference, demonstrated he after counts year fine idea and creation completes " American all previous years 42 presidents portrait " - complete portrait all exists to one 11 millimeters long, on diameter 0.09 millimeters hair silk.
It is reported, Jin Y. H. newly does the release conference arranges in the fifth main road, 31 streets one to be called Wolcott in the guesthouse holds, visitor must penetrate microscope only then can watch its work. He carefully draws up 42 American president looks like the manner respectively differently under the magnifying glass, lifelike.
Jin Y. H. indicates, this is he passes for several years painstaking care crystallization, must portray more than 40 characters on one hair silk, first needs is the calligraphy and the drawing skill, then is the patience and the determination, the entire process is extremely big to person's energy consumption. It is reported, money China had been born in 1956 to the Jiangsu Nantong, at the beginning of 80's, at that time were being engaged in the technical design work he occasionally saw one set narrated the Chinese intricate carvings craft documentary film, from this changed his destiny.
In 1986, Jin Y. H. originated in on the rice grain of size ivory painting The world famous picture " the Mona Lisa ", its size reduced 100 compared to the original work ten-thousand fold, the entire ivory size was the 4x9 millimeter. Next year in March, he will conduct " the Jin Y. H. in Micro carvings micro paintings Exhibition " in the Shanghai workers' palace of culture, aroused the very many people's interest, and obtained the media the widespread report. In 1993 he on invitation came the beautiful participation " the entire American micro art Exhibition ", afterwards settled down in USA.
Chief-editor: High Ying