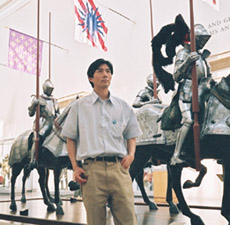 An Artist Draws
A Very Fine Line With His Talent
Mr. Jin. Y. H. grew up in China a small coast town called
Nanton, northeast of Shanghai in the province of Jiangsu.
At an early age, Mr. Jin began to draw with crayons on
paper and windows pictures which expressed his potential
Talent as a mature artist.
Jin under the guidance of international well known Chinese
painter, Guo Yi Wang, former vice president of Shanghai
Chinese painting Institute, he started his professional painti-
ng Career taught by the world known engraving, RouJian
Shen, vice Chairman of the Chinese Engrave ring Artists
Organization, he has Developed his own unique hair sets
world recognition and public Interest.
MICRO CARVING AND PAINTINGS
During the past ten years. Mr. Jin has created over 100
micro-carvings and micro-paintings, such as "Huangshan
Mt." on ivory (2x4mm).Every stroke is vivid and in perfect
harmony. "Pinetrees in a Cloudy Valley" is carved on a
piece of Ivory the size of half grain rice, depicting life-like
Mountains full of vitality and strength. A clear example of
Mr. Jin s talent is his detailed micro-carving. "The Portrait
of Rod in". Carve on apiece of ivory the size of a sesame
seed.
NEW TECHNIQUES
Mr. Jin's carvings and paintings are not solely based on
Traditional Chinese art, he has courageously experimented
with New techniques.
For example, he applied his skills and carved individuals and
Poems from the Tang dynasty onto human hair. Recently he
Carved the comedian Chaplin on a length of white hair. At
the Beginning of 1990. on a half inch strand of white human
hair,Yinhua carved "The Portraits of 40 American Presiden-
ts", from Washington to Bush.
He has also produced miniature paintings of royalty from
several Asian and Middle East countries.
On apiece of ivory, the size of a grain of rice. He used a new
Method of painting called POMO. This the splashing: (PO) of
Ink (MO) onto the ivory to create landscape paintings:"Li
Jiang Mist" and "Dawn on Huangshan Mt". Mr. Jin combined
Traditional ink painting with oil painting to produce "Jingou
Lilies". At the same time that he was doing traditional Painting,
he also createdn micro-painting, such as "The landscape
of Guilin", "The Portrait of an Indonesian" and "The Portrait
of Clinton".
Painter Jin , creations on a human hair "The Portraits Of 42
American Presidents", from Washington to Bush.The work
completes in New York recently, this work lengthDoes not
arrive half-inch, his work created the world Record."The
Portraits of 42 American Presidents",
The work image is accurate, the person facial expression is
Clear, it is thus clear that.
"The Ballet on Diamond" art work painting on 1mm Diamond
Painter Jin Yin hua artworks of "The 42 American presidential 
portrait painted on a single human hair" Participated in
the "Art Interview -2 quartly International online competition"